Hand-held massager can relieve muscle pain after exercise, reduce muscle stiffness, reduce fatigue, promote blood circulation and range of motion, and improve the health of the body's soft tissues, effectively relax the body quickly and maintain health
6 Adjustable Speeds + 4 Replaceable Massage Heads:
The multi-frequency vibration design of the percussion massage gun, one-button start, 6 adjustable speeds to meet the needs of all muscle relaxation, 4 massage heads for different bodies Parts, you can adjust the intensity according to different parts of the body and different uses, and change the needs of the massage head
Ultra Quiet:
The massage gun uses the latest noise reduction technology and powerful high-quality brushless motor, 45-55db low noise design, you can enjoy it anytime, anywhere, to provide you with a comfortable sense of use
Cooling System + Fast Charging:
Multiple ventilation holes, high efficiency, reduce the heat of the machine during use, extend the service life of the motor, built-in 2000mAh large-capacity rechargeable lithium battery, one charge can run for a long time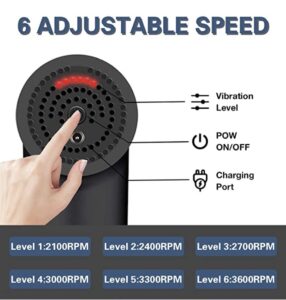 Application + Ergonomic Design:
This handheld vibrating massage gun uses an ergonomically designed handle to minimize external vibrations, making it easier and more comfortable to use the massager.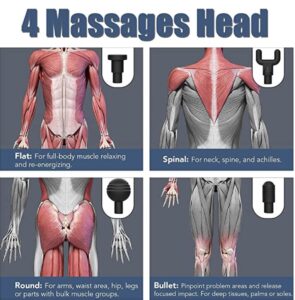 4 Interchangeable Massage Heads
●Fork head: suitable for spine and neck
●Flat head: suitable for relaxation and plasticity of various muscle parts
●Bullet head: suitable for joints, deep tissue and trigger points
●Ball head: suitable for large muscle groups
Non-slip Design
Ergonomic designed grip minimizes external vibrations. Handheld design and silicone handle is better for gripping, more comfortable to use.
Powerful strike directly into the muscle 12mm deep, each hitting force is just right, dig deep, adjust and rotate to relieve difficult to reach muscle groups
Specs:
AI Smart Chip
Humanized intelligent interactive experience, short-circuit security + + pressure feedback + overload power protection
Item Weight: 2.3 pounds
Shipping Weight: 2.9 pounds (View shipping rates and policies)
ASIN: B07ZKGHTZ6
UPC: 786118264243
Batteries 2 Lithium Polymer batteries required. (included)
You Can Make A Pre-Order Today Just By Clicking Here