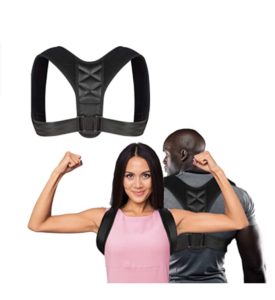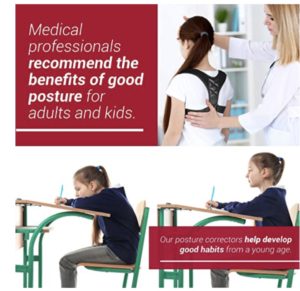 REDUCES

: back and shoulder pain, as well as headache. Recommended by doctors and chiropractors, the posture corrector assists in realigning your spine and shoulders, whilst building muscle strength and improving health and assisting scoliosis and maintaining an upright posture .

HEALTHY:

Our Posture Corrector assists stability and regular use develops muscle memory, which leads to a more natural posture position over time. The device straps provide the therapy recommended by medical professionals and can assist with lifting posture.

FLEXIBILITY

: As your posture improves and your back muscles become stronger, the correction to your body and lumbar provided by the braces becomes more natural, reducing slouching and providing orthopedic benefits, assisting your thoracic spine and can assist kyphosis

QUALITY

: Soft and BREATHABLE FABRIC: Featuring strong lightweight breathable and washable materials and a leading design means you will stay cool while promoting mens and womens proper posture and helping to straighten your spine and improve balance

MANUFACTURER GUARANTEE

: We stand behind our posture corrector, which is rigorously tested. If you are not satisfied with our posture corrector, we will send you a replacement or give you a full refund!
Specifications for this item:
Brand: NuTuff
Ean: 0760655886625
Material: Nylon
UNSPSC code: 50500000
UPC: 760655886625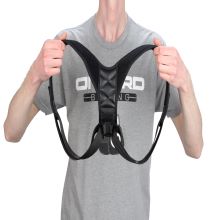 The NuTuff Posture Corrector carries the Amazon's Choice badge for a very good reason! It's super comfortable, adjustable and has extra long straps, that should suit most body types.
FEATURES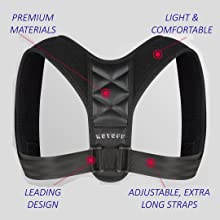 FIT
If the steps we supply to fit your NuTuff Posture Corrector are not clear to you, we will happily send you a video that will give you further instructions. Just reach out to us via our email.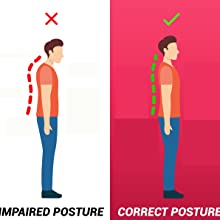 BENEFITS
We recommend the use of the NuTuff Posture Corrector to assist in the following ways:
you will portray a better, more confident image

breathing becomes easier and deeper

it may assist with circulation and digestion

it will make you looker slimmer and more youthful

it will help your muscles and joint alignment

the posture corrector will change your frame of mind – feeling happy and on top of things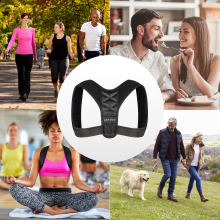 WHO?
The NuTuff Posture Corrector is great for use by the whole family. Our brace is comfortable and adjustable, and can be worn under loose clothing. With kids spending more time than usual on their devices right now, it's a great idea for them to wear it while sitting at their desk or on the couch to prevent slouching.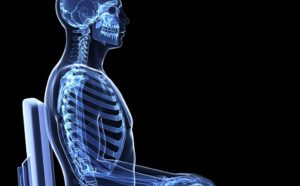 WHAT IS BAD POSTURE?
INJURY AND MUSCLE GUARDING – After an injury, nearby muscles tend to go into spasm as a way of protecting the vulnerable area. While muscle spasms can limit your movements and cause pain, they also help keep your injured part stable, as well as protected from further injury risk. The problem is, muscles that stay in spasm tend to weaken over time. The resulting imbalance between muscles that guard an injury and those still working normally may lead to aberrations in body posture.

MUSCLE TENSION AND WEAKNESS

– Similar to when you're injured, when the body has areas that are extra weak and/or strong, most likely, it will not be held upright against gravity in the most effective manner. This condition generally leads to poor posture and pain. Excessive muscle strength and weakness may be brought about by a number of things, including the way you work out and the way you perform your routine tasks and chores.

DAILY HABITS CAN LEAD TO BAD POSTURE

– Your body will likely abandon good posture and alignment in order to find ways to accommodate muscle spasm, weakness, tension and/or imbalance between muscle groups. This is because, in these cases, the body is forced to use alternate, but less efficient, patterns of muscle contraction and stretch. Called compensation, the body can still achieve its movement aim, but with comprised alignment.

USE OF TECHNOLOGY

– Your use of technology, whether you sit at a computer all day, use a tablet or cell phone or you work with several devices at once, can quickly take your body out of alignment. If you text incessantly, you may develop text neck, which is a condition in which your neck is held in too much flexion, or forward bending, for too long. This may lead to pain.

MENTAL ATTITUDE AND STRESS

– Do you stress easily or have stressful relationships or work? If so, watch your posture! Stress may lead to a decrease in full breathing as well as overly-contracted muscles, which in turn may compensate your ideal body posture.
Get The P

o

sture Corrector to help You realigning your body now!